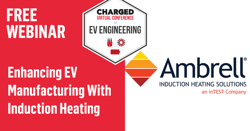 Join Dr. Dahake from THE LAB at Ambrell for a free webinar on "Enhancing EV Manufacturing with Induction Heating." The event will take place on October 20th at 1:15 pm and is part of the Charged Virtual Conference from Charged Electric Vehicle Magazine.

Dr. Girish Dahake, Ambrell's Senior Vice President, Global Applications, will review a wide array of induction heating applications in electric vehicle manufacturing such as brazing for electric vehicle batteries, shrink fitting motor shafts into stators, bonding of magnets in electric motors and much more. Attendees will learn about the benefits induction heating can offer to these processes when compared to other traditional heating methods. Benefits can include energy savings, improved throughput, consistency, superior workplace safety, and a possible savings in floor space. Induction heating can also be a part of a company's ESG-related carbon neutrality strategy.


Click here to learn more and register for this free educational event.