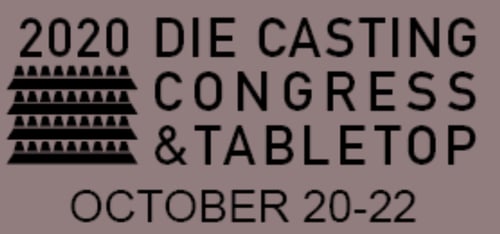 Ambrell, a leading manufacturer of induction heating solutions, will exhibit at the 2020 Die Casting Congress & Tabletop Virtual Event. It will be held October 20-22 and will provide three days of informative sessions, virtual exhibits, networking, award presentations and fun activities. The virtual exhibit hall is free to visit, while attending the sessions costs a nominal fee.

Ambrell will have a "virtual booth" at the summit where attendees can view literature, watch videos, and download educational pieces regarding induction heating. Additionally, attendees can schedule virtual meetings with Ambrell representatives to discuss their potential applications. Be sure to ask about free virtual parts testing from THE LAB at Ambrell. Clients can view testing that proves their application's viability from the convenience of their office.
Companies implement induction heating for many reasons. First, it delivers rapid heating that can increase throughput. It offers localized heating that only heats the portion of the part that requires it, which can save time and energy while also enhancing part quality. With a flame or an oven, the entire part often ends up getting heated. Induction also is instant on/off, and only uses energy when the part needs to be heated. Induction is used across a wide range of industries including die casting and automotive.
Visit www.ambrell.com to learn more about Ambrell's induction heating solutions.