HOW INDUCTION BRAZING WORKS
Brazing with induction generates heat only where it's needed in your part, providing a highly uniform and repeatable process with a precise, consistent quality braze every time. Easily integrated into lean manufacturing processes, induction's small footprint frees up valuable floor space. Induction brazing machines are effective in brazing copper, brazing steel, brazing brass, brazing aluminum and many other metal combinations.
Induction Application Notes
Click to read how induction can improve the efficiency, effectiveness, and safety of your heating process.
To search all notes, Ctrl+F keyword or ⌘+F keyword or scroll
Popular Catheter Tipping Note
Popular Catheter Tipping Video
More Induction Resources:
Select from our libraries of materials to help you better understand the benefits brazing with induction heating can bring to your process.
About Induction Heating
Induction heating is a fast, efficient, precise and repeatable non-contact method for heating metals or other electrically-conductive materials. The material may be a metal such as brass, aluminum, copper or steel or it can be a semiconductor such as silicon carbide, carbon or graphite. To heat non-conductive materials such as plastics or glass, induction is used to heat an electrically-conductive susceptor, typically graphite, which then transfers the heat to the non-conducting material.
Read our 4-page brochure; learn more about how the science of induction technology can solve your precision heating problems.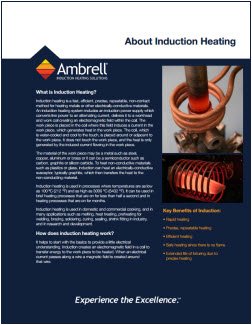 Induction Heating Work Coils
The work coil is the component in the induction heating system that defines how effective and how efficiently your work piece is heated.
Read our informative brochure explaining the fundamentals of induction coils and their design.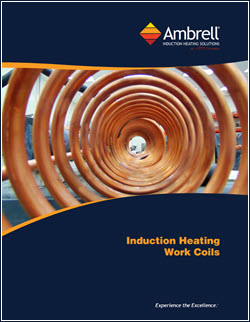 Four Ways To Contact Ambrell for Support
AMBRELL CORPORATION
1655 Lyell Avenue
Rochester, NY 14606
United States


Directions
F: +1 585 889 4030
AMBRELL B.V.
Holtersweg 1
7556 BS Hengelo
The Netherlands


Directions
AMBRELL Ltd.
Unit 6, Space Business Centre
Tewkesbury Road
Cheltenham, GLOS, GL51 9FL
United Kingdom

Directions
F: +31 546 788 154