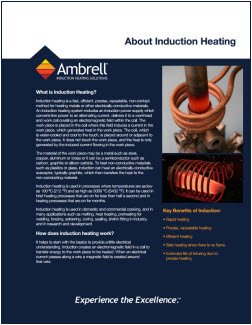 About Induction Heating
Induction heating is a fast, efficient, precise and repeatable non-contact method for heating metals or other electrically-conductive materials. The material may be a metal such as brass, aluminum, copper or steel or it can be a semiconductor such as silicon carbide,carbon or graphite. To heat non-conductive materials such as plastics or glass, induction is used to heat an electrically-conductive susceptor, typically graphite, which then transfers the heat to the non-conducting material.
Read our 4-page brochure; learn more about how the science of induction technology can solve your precision heating problems.