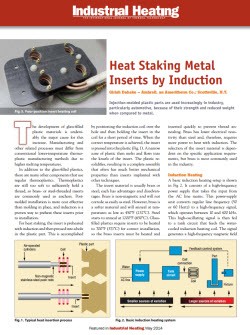 Heat Staking Metal Inserts by Induction
Injection-molded plastic parts are used increasingly in a variety of industries including automotive, office furniture, cutlery, gardening equipment and more, because of their strength and lighter weight when compared to metal.
Learn about the advantages of induction for heat staking, also known as metal-to-plastic insertion, of your plastic parts in Dr. Dahake's white paper article from Industrial Heating magazine.
Heat staking is a familiar application for the experts at Ambrell. Take advantage of our complimentary testing service and let us help you solve your heat staking problems by contacting our Applications Lab today.