About Girish Dahake
The Man Behind the Magic
Dr. Dahake is Ambrell's Sr. Vice President, Global Applications. He has over 25 years of induction experience and leads a worldwide team of induction application experts at Ambrell's renowned applications laboratories. He holds multiple industry-related patents, has authored numerous papers and frequently presents at professional conferences on topics such as induction heating, nanoparticle heating and heat staking. Dr. Dahake holds a Ph.D. in Mechanical and Aerospace Engineering from the University of Rochester.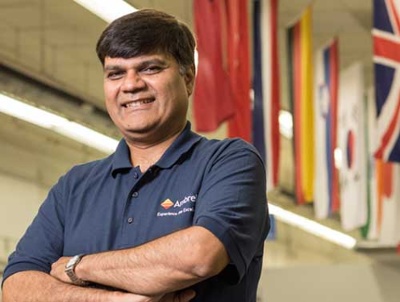 Complete Guide to Induction Coil Design
Creating the Right Custom Inductor for Your Project
We have assembled this 28-page guide to help you get the best performance from your induction heating system.
Induction coil design can have a major impact on part quality, process efficiency, and manufacturing costs. This guide provides (almost) everything you need to design the optimal coil for your part and process. Request your copy and read about the science and the art of induction coil design.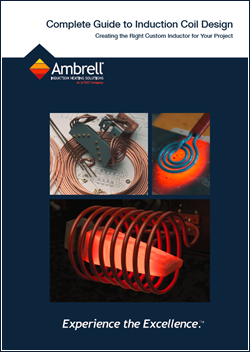 Heat Staking: Inserting Metal Into Plastic
Dr. Girish Dahake, Senior VP Global Applications
One of the most common uses for induction heating is the heat staking of threaded metal inserts into plastic. Most thermo-plastics are too soft to sufficiently hold a thread, so brass or steel threaded inserts are added.
For heat staking, the insert is preheated with induction and then pressed into a hole in the plastic part. This is accomplished by positioning the induction coil over the hole and then holding the insert in the coil for a short period of time.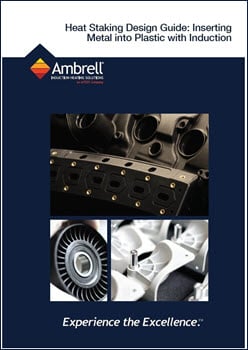 AMBRELL CORPORATION
1655 Lyell Avenue
Rochester, NY 14606
United States


Directions
F: +1 585 889 4030
AMBRELL B.V.
Holtersweg 1
7556 BS Hengelo
The Netherlands


Directions
AMBRELL Ltd.
Unit 6, Space Business Centre
Tewkesbury Road
Cheltenham, GLOS, GL51 9FL
United Kingdom

Directions
F: +31 546 788 154