Induction Heating Applications Lab
Ambrell's Applications Laboratory – known in the industry as THE LAB – is where we solve our customers' most challenging heating applications every day.
Induction Heating Applications Lab
Ambrell's Applications Laboratory – known in the industry as THE LAB – is where we solve our customers' most challenging heating applications every day.
Dr. Girish Dahake, Sr. Vice President of Global Applications, leads a worldwide team of elite engineers who are uniquely qualified to assist you with your heating process needs. Our induction heating consultants are renowned for developing innovative and effective heating solutions that produce extraordinary results.
Under the guidance of Dr. Dahake, our engineers have evaluated thousands of heating applications in THE LAB, so it's likely we have already assessed an application similar to yours. The team's hallmark is the ability to consistently deliver performance excellence in one application after another. It's why THE LAB is the gold standard in the industry.
Free Lab Testing Service
Now Offering Remote Lab Service
We will design and test the optimal induction heating solution for your application. Follow these three easy steps:
Send us your parts and process requirements.

Our engineers will analyze your process and heat your parts to develop the right solution for your specific application.

You will receive your parts back for inspection as well as a video of the heating process of your parts, and a laboratory report with a system recommendation.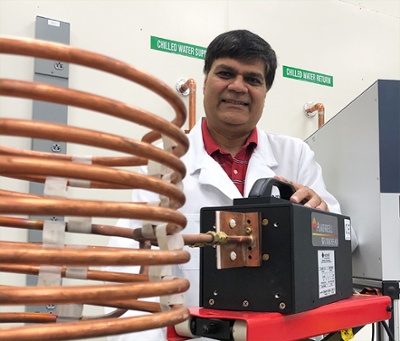 You also have the option to observe testing through our Remote Lab Service. From the convenience of your office, observe your parts being tested live in THE LAB.
For those that would like the interactive experience of being in one of our applications laboratories during testing but are unable to do so, we're pleased to introduce Remote Lab Service. The process is similar in that you discuss your application with an expert applications engineer and send in your parts to one of our laboratories.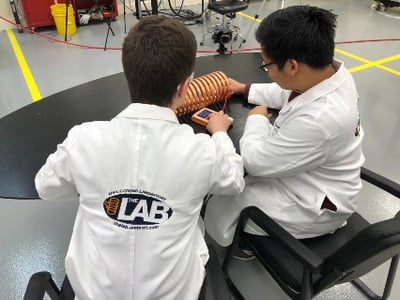 At that point, you'll set up a time and date and we'll video conference with you during testing to show you the testing process and results live. This offers a more interactive experience while you get to provide your input during the process – all from the convenience of your office.
If travel to our Lab is not practical for your organization, we can arrange for a remote session for you to discuss and witness testing of your parts from wherever you are.
Our induction scientists can work with you remotely to determine if your heating process can benefit from our remarkable technology.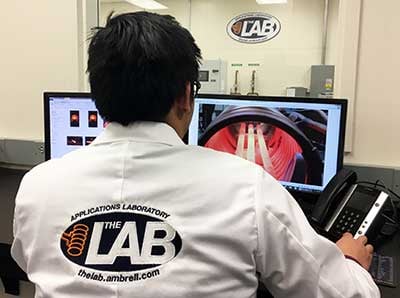 Customer Satisfaction Ratings for THE LAB
Over the last few years hundreds of companies have visited THE LAB for precision induction heating solutions for parts of every size, shape and material composition. With each visit we are careful to ask "How satisfied are you with your visit?" On a scale from 1 (low) to 5 (high) we consistently receive customer satisfaction ratings between 4 and 5.
We invite you to visit THE LAB where you can experience our state-of-art testing facility, which is fully equipped with Ambrell induction heating systems and hundreds of proven coils. In addition, you can interface with our engineers and see first-hand how they design prototype coils and develop innovative, effective solutions to maximize the efficiency of your heating process.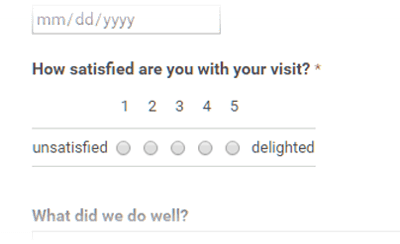 More About THE LAB
Through our comprehensive testing services in THE LAB — with locations in the United States, Europe and Mexico — you can find out if induction is the best heating method for your manufacturing process. It's been said "A single test is worth a thousand expert opinions."
If you have old systems that need to be replaced – why not find out if using a smaller, more efficient Ambrell induction heating system is the right solution for your process? There are measurable savings in the form of less downtime, higher production throughput, improved energy efficiency and more.
Image: THE LAB Team Leaders: Dr. Girish Dahake (U.S.), and Frank Kuster (The Netherlands).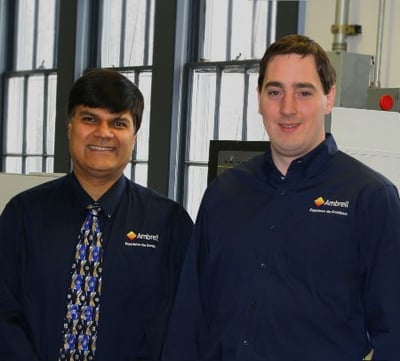 Taking Advantage of our Applications Laboratory
Laboratory Testing Equipment
Our lab equipment includes a wide array of systems and hundreds of proven coil designs, as well as rapid coil prototyping for unique applications. We have videotaping equipment for slow motion studies, computer software for thermal analysis, quenching and closed loop heat sensing capabilities.
Why Send Sample Parts?
When you arrange to send us samples for evaluation, you'll receive free consulting before committing to a purchase. We've handled thousands of parts of virtually any size and shape. We may already know just what you need. Let our expert engineers analyze your parts and process requirements and provide a recommended solution.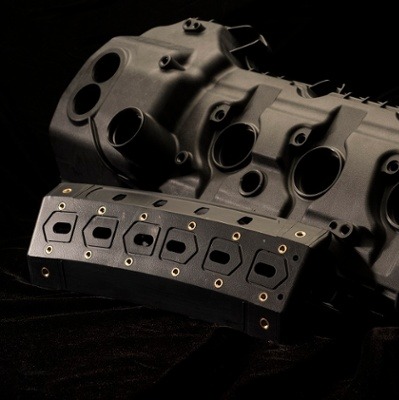 How to Send Sample Parts
Fill out and submit our short online form to help us better understand your process and performance requirements. We'll contact you after we have received the form. If have questions or need any assistance with the form, you can email us or simply give a call. Our staff of engineers will be happy to help.
Take Advantage of THE LAB
We offer state-of-the-art testing equipment, highly-skilled staff and an ISO 9001:2015-certified facility for brazing, heat treating, metal bonding, adhesive curing, melting, heat staking and many other processes. Our experienced engineers will process your parts with speed, accuracy and consistency. Take advantage of THE LAB today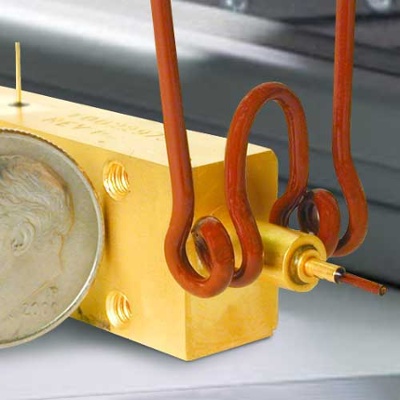 Four Ways To Contact Ambrell for Support
AMBRELL CORPORATION
1655 Lyell Avenue
Rochester, NY 14606
United States


Directions
F: +1 585 889 4030
AMBRELL B.V.
Holtersweg 1
7556 BS Hengelo
The Netherlands


Directions
AMBRELL Ltd.
Unit 6, Space Business Centre
Tewkesbury Road
Cheltenham, GLOS, GL51 9FL
United Kingdom

Directions
F: +31 546 788 154