Our Commitment to Sustainability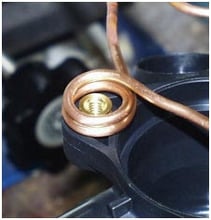 The United Nations has several sustainability goals, and our solutions are in alignment with those goals. Goals 12 and 13 are worthy of particular emphasis when assessing the benefits of induction heating for sustainability:
• 12 – Responsible Consumption and Production: Our induction heating solutions increase energy efficiency and reduce pollution, thus helping manufacturers achieve this sustainability goal. And, at our facility, we have implemented energy efficient lighting, motion detectors, programmable thermostats, and we participate in sortable recycling to maximize yield.
• 13 – Climate Action: Induction replaces inefficient and sometimes pollution-laden solutions like torches/flame and gas ovens, which benefits the environment. This is in alignment with a "Green Transition" and "Investing in More Sustainable Solutions."