Once the material has melted, the induction power is shut off, and the molten mass can be dropped or forced into a mold for forming. This application is leveraged in the jewelry, dental, electronics, and aerospace research industries for a contaminant-free environment.
Induction levitation Application Notes
Click to read how induction levitation can improve the efficiency, effectiveness, and safety of your heating process.
To search all levitation notes, Ctrl+F keyword or ⌘+F keyword or scroll

A levitation melting system for micro-gravity metal processing
Design a modular electromagnetic levitor (MEL) to aid in the study of RF systems used to process metals in the microgravity of space.

Levitation melting of steel balls
Benefits: Minimal contamination of conductive material during manufacturing, removal of insoluble inclusions while leaving desired alloying constituents intact, even distribution of heating
Popular levitation Videos
About Induction Heating
Induction heating is a fast, efficient, precise and repeatable non-contact method for heating metals or other electrically-conductive materials. The material may be a metal such as brass, aluminum, copper or steel or it can be a semiconductor such as silicon carbide, carbon or graphite. To heat non-conductive materials such as plastics or glass, induction is used to heat an electrically-conductive susceptor, typically graphite, which then transfers the heat to the non-conducting material.
Read our 4-page brochure; learn more about how the science of induction technology can solve your precision heating problems.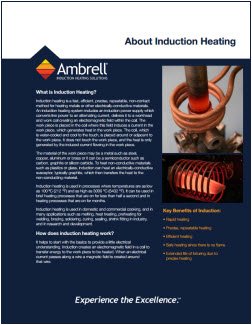 Induction Heating Work Coils
The work coil is the component in the induction heating system that defines how effective and how efficiently your work piece is heated.
Read our informative brochure explaining the fundamentals of induction coils and their design.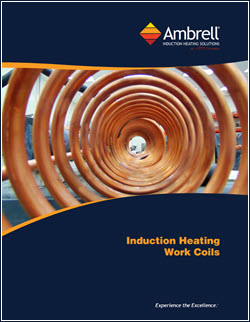 Four Ways To Contact Ambrell for Support
AMBRELL CORPORATION
1655 Lyell Avenue
Rochester, NY 14606
United States


Directions
F: +1 585 889 4030
AMBRELL B.V.
Holtersweg 1
7556 BS Hengelo
The Netherlands


Directions
AMBRELL Ltd.
Unit 6, Space Business Centre
Tewkesbury Road
Cheltenham, GLOS, GL51 9FL
United Kingdom

Directions
F: +31 546 788 154