Induction brazing Benefits
Meets tight production tolerances with precise localized heat to small areas creating pinpoint accuracy

Increases production rates with faster heating cycles

Reduces defect rates with repeatable, reliable heat

Eliminates variability from operator-to-operator, shift-to-shift

Maintains metallurgical characteristics of the individual metals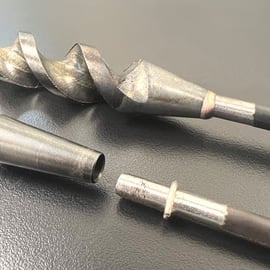 Get Your Free Induction brazing Application Notes
Click to read how the efficiency, effectiveness, and safety of your brazing process can be improved with induction.
To search all brazing notes, Ctrl+F keyword or ⌘+F keyword or scroll
Steel Brazing Applications
Induction brazing is the ideal technique for joining steel parts where welding is not suitable. A well-designed induction brazed steel joint provides many benefits including part geometry integrity and lower part stress. Carbon and stainless steel have high resistivity – they couple well to induction energy and heat easily. However, they have poor thermal conductivity so the induction brazing of steel parts should not be rushed. With steel, it is important the heat is given time to soak through to the joint surface for proper flow and wetting out of the braze material.
Steel, Copper and Brass Brazing
Induction brazing is an excellent method of joining parts made of dissimilar metals. Applications with mixed metal joining include steel-to-copper, steel-to-brass and brass-to-copper. With these materials, it's all about timing. For a successful brazed joint between different metals it is critical that both metal surfaces reach the braze flow temperature at the same time as the joint. The induction heating solution must take into account the different thermal conductivities of the materials, and the time each material takes to get to the required temperature.
Our Induction brazing Systems and Equipment
Four Ways To Contact Ambrell for Support
AMBRELL CORPORATION
1655 Lyell Avenue
Rochester, NY 14606
United States


Directions
F: +1 585 889 4030
AMBRELL B.V.
Holtersweg 1
7556 BS Hengelo
The Netherlands


Directions
AMBRELL Ltd.
Unit 6, Space Business Centre
Tewkesbury Road
Cheltenham, GLOS, GL51 9FL
United Kingdom

Directions
F: +31 546 788 154