EASYHEAT®
Air 2.0

kW Induction Heating Systems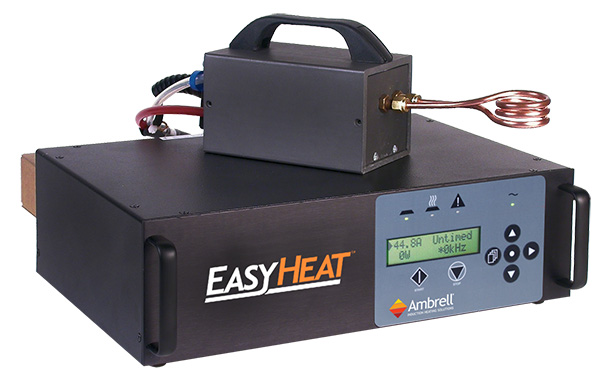 The compact EASYHEAT Air is an air-cooled induction heating system that offers peak power of 2 kW. It is a reliable solution for heating parts with a quick, clean source of heat. With a movable work head that can be located up to 3m (10') from the power supply, it is ideal for repeatable, non-contact heating of parts.
Important: For applications with output power over 500W, operation must be validated by our Applications Lab.
Equipped to operate over a broad frequency range (150-400 kHz), EASYHEAT is ideal for heating parts of many geometries and compositions with precise power control within 25W resolution.
Avoid time-consuming changeovers with agile tuning for single-cycle and continuous heating operations. One system can supply heating for an array of applications like brazing, soldering, catheter tipping and much more. Flameless, non-contact induction heating minimizes energy waste by focusing energy only on the part and zone to be heated. Select and monitor power levels from the front panel LCD and sealed touch pad. Easily control the length of the heating cycle with a built-in programmable digital timer.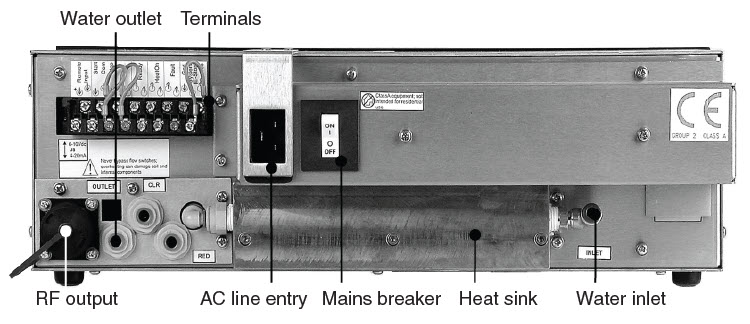 Versatile
♦ Efficient heating of many geometries
♦ Repeatable, reliable heating with agile frequency tuning
♦ Movable workhead; up to 3m (10')
♦ Remote serial operation or logging (optional)
♦ Five language display suite (EN, FR, IT, DE, ES)
♦ Field-calibration capable
Easy-to-Use
♦ Self-adjusting for accurate, repeatable results
♦ View set-point, output, frequency and timer
♦ Built-in timer, stop-watch
♦ Push-button RF power control
Compact and Light
♦ Smallest feature-rich model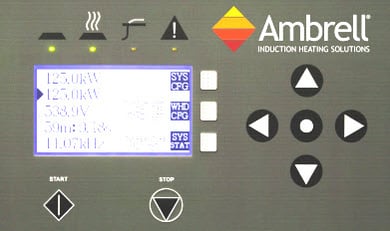 EASYHEAT features a front panel programmable controller allowing you to define up to four different heating profiles, each with up to five time/power steps.
Options and Accessories
♦ Heat exchanger or chiller
♦ Optical pyrometer (closed-loop temperature control)
♦ External controller (plc)
♦ Extended work head cable lengths
♦ Footswitch
♦ Serial data interface
♦ Pendant station
♦ Start-up assistance
SPECIFICATION

VALUE

UNITS

RF Terminal Power3

2

kW

AC Line Power

0.8

kVA

AC Line Protection

15

A

Frequency

150-400

kHz

RF Coil Current

100 (typical)

A max

AC Line Voltage

117 or 220

Vac ± 10%, 1Ø

Front Panel Display

2 line x 16 character LCD; displays frequency, power, setpoint, timer and fault descriptions

Display Language Suite1

Five language display suite (EN, FR, IT, DE, ES)

Serial Communications

Via RS485 terminal mode

Optional

Timer

Built in; 10ms to 10,000 seconds

Heating Controller

4 programmable profiles, 5 steps per profile

RF Rise Time

<5

ms

Tune Time

<5

ms

Compliance

CE & UKCA Marked, 220 models only

Max Ambient Temp

45 (115)

C° (F°)

Unit Weight

10.4 (23)

Dimensions

Rack 483 x 400 x 133 (19 x 15.7 x 5.3)

WxDxH mm (in)

Bench 436 x 398 x 129 (17.2 x 15.7 x 1) 3U

WATER COOLING (Sys2)

Max Input Pressure

5.6 (80)

Bar (lb/in2)

Pressure Differential

2.8 - 5.5 (40-80)

Bar (lb/in2)

Max Air Temp

32 (90)

C° (F°)
1) Factory set
2) System includes workhead
3) For applications with output power over 500W, operation must be validated by our Applications Lab.
Four Ways To Contact Ambrell for Support
AMBRELL CORPORATION
1655 Lyell Avenue
Rochester, NY 14606
United States


Directions
F: +1 585 889 4030
AMBRELL B.V.
Holtersweg 1
7556 BS Hengelo
The Netherlands


Directions
AMBRELL Ltd.
Unit 6, Space Business Centre
Tewkesbury Road
Cheltenham, GLOS, GL51 9FL
United Kingdom

Directions
F: +31 546 788 154