EKOHEAT®
20, 35 & 50

kW Induction Heating Systems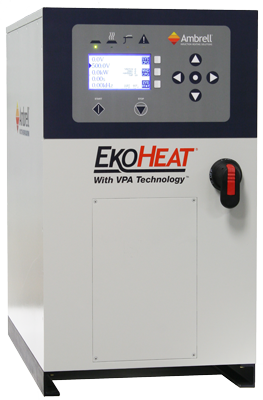 Power to 50kW
Operation from 15 kHz to 40 kHz
World-class Induction Heating Systems
EKOHEAT 20 kW, 35 kW & 50 kW induction heating systems for 15-40 kHz range provide reliable and repeatable solutions for heating with large coils or for heating larger parts. Among the many typical applications are heating of hard-to-couple parts, deeper heat penetration, crystal growing, heat treating steel, preheating for forging of steel, aluminum, copper or brass, and melting in crucibles.
Versatile
♦ Efficient heating of many part geometries, sizes and compositions
♦ Multiple capacitor configurations
♦ Multiple tap transformer configurations
♦ Voltage or Power control
♦ Repeatable, reliable heating, agile frequency tuning
♦ Through-Curie heating
♦ Movable workhead; up to 30m (100')
♦ Sub-second to continuous cycle times
♦ Remote operation or logging with RS485 port
♦ Accepts international AC line voltages
Easy to Use
♦ User-friendly operator front panel controls
♦ System configuration from front panel
♦ Cycle timer, peak and short-cycle data capture
♦ 10 ten-step heating profiles
♦ Overload-tolerant output management
♦ 5-language display suite (EN, ES, FR, DE, IT)
EKOHEAT is CE marked and manufactured at our IS0 9001:2015 certified facility.
With the versatile EKOHEAT power control system you get rapid tuning, efficient and precise heating of your parts, power control within 0.2% resolution and an easy-to-use, easy-to-read front panel. Remote control is accomplished with 0-10V, 4-20mA inputs, RS485 serial port, 24V controls and remote E-Stop input so integration with your automated production lines is easy.
EKOHEAT technology improves return on investment by reducing your energy usage compared to gas-fired and resistive heating techniques. Flameless, non-contact induction heating minimizes energy waste by focusing energy only on the part and zone to be heated. With very efficient power conversion and a power factor greater than 0.9, utility demand charges are reduced, lowering monthly energy bills. EKOHEAT systems are designed for efficient use of cooling water, further lowering your operating costs.
This is a water-cooled system, requiring connection to a heat exchanger or other means of dissipating heat.
SPECIFICATION

20/25

35/25

50/25

UNITS

RF Terminal Power (continuous)

20

35

50

kW

AC Line Power

23

41

58

kVA

Power Factor

0.92

Output Frequency

15 – 40

kHz

AC Line Voltage

360 - 520

Vac, 3Ø

AC Line Protection1

50

80

100

A

Display

LCD Monochrome, 240w x 128h Pixels

Serial Communication

RS485 standard (RS485/232 converter optional)

Process Timer

0.01 - 10000

sec

Max Ambient Temp

45 (115)

°C (°F)

Compliance2

CE, UKCA, EN61010, EN55011

Ingress Protection

IP54

Dimensions

432 x 711 x 762 (17 x 28 x 30)

WxDxH mm (in)

Weight

88 (195)

kg (lb)

WATER COOLING

Flow3

9.5 (2.5)

l/m (g/m)

Pressure Differential (Range)

2.8 - 5.6 (40 - 80)

Bar (lb/in2)

Maximum Input Pressure

5.6 (80)

Bar (lb/in2)

Max Water Temp

35 (95)

°C (°F)
1) Fast-acting fuses
2) Suitable for incorporation into equipment for compliance with Machinery Directive
3) Power supply; required workhead coil flow requirements vary by application
Four Ways To Contact Ambrell for Support
AMBRELL CORPORATION
1655 Lyell Avenue
Rochester, NY 14606
United States


Directions
F: +1 585 889 4030
AMBRELL B.V.
Holtersweg 1
7556 BS Hengelo
The Netherlands


Directions
AMBRELL Ltd.
Unit 6, Space Business Centre
Tewkesbury Road
Cheltenham, GLOS, GL51 9FL
United Kingdom

Directions
F: +31 546 788 154