In down-hole fixed-cutter, rock or hammer drill bit manufacturing and rebuild operations, multiple tool inserts are individually brazed onto a single drill bit. These inserts may be polycrystalline diamond compact (PCD) or tungsten carbide insert (TCI).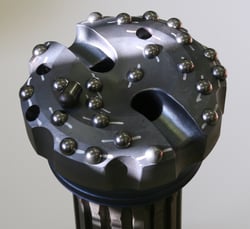 Induction heating is a comparatively rapid, efficient method of preheating the drill bit to 600 °C (1100 °F) in preparation for torch brazing of the diamond inserts. The key benefits of induction preheating include:
Safety: no preheating with an open flame or a hot furnace.
Better efficiency: instant on, instant off heating, no long flame or oven heating.
Throughput: induction heating reduces preheat time.
Better quality with braze temperature control.
Repeatability: you can count on a precise, consistent quality braze every time.
Easy integration into lean manufacturing processes.
Small footprint: frees up valuable factory floor space.