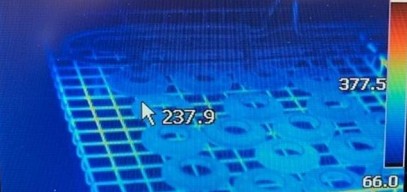 A client that manufactures components for outdoor power equipment had been using hot air for a steel ring drying application, but the rings weren't completely drying. Consequently, they turned to THE LAB at Ambrell to see if induction heating could be a better solution for their drying application.

THE LAB determined that an EKOHEAT® 20 kW, 15-40 kHz induction heating system with a custom-designed single position multiple-turn pancake coil would be the right solution for their application. A thermal imaging camera was used to measure the temperature of the parts during heating trials.
24 parts were loaded onto a magnetic steel grated tray. The tray was mounted on a linear motion, motorized sled programmed to run at a rate that would heat one tray per minute. To prevent overheating the side rails, the parts were grouped near the center of the tray to allow for a coil design that did not need to extend to the sides of the tray. The parts were sprayed with water before the heating cycle. All parts were observed to be completely dry at the end of the heating cycle.
The client chose induction from Ambrell for a number of reasons. Most importantly, THE LAB was able to offer a solution that completely dried the steel rings. Speed was another benefit as the throughput with 24 parts on a tray at a time was significant. And, induction's repeatability is always a benefit as the client can expect the same exact result every time.
To read other heating application notes from THE LAB at Ambrell, visit our heating applications page.