Dr. Girish Dahake and his team recently encountered an application that involved heating aluminum wire to 450 °F (232 °C) for a wire coating curing application. The end product is a screen. The client was using infrared heat and running 50 feet of wire (0.145"/3.7 mm) per minute, but wanted to double that rate with induction heating.


In order to meet this goal, Dr. Dahake's team designed a 2.5 foot (0.8 m) long helical coil with forty turns, and an EKOHEAT 50 kW, 15-45 kHz induction heating system will deliver the needed power. Putting a considerable amount of power into a helical coil to heat aluminum can be challenging, which is why application testing from experienced applications engineers is critical.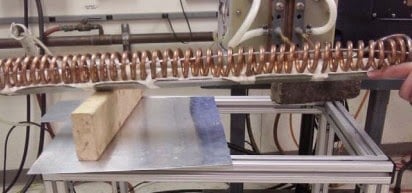 During testing, temperature indicating paint was used. The wire was heated to temperature with the EKOHEAT in just three seconds. Based on this testing, meeting the client's targeted run rate looks viable. In production, the wire will come off a spool, heat to temperature, the coating will cure, and the wire will be re-spooled.

Induction offers several benefits to the client. It will provide faster heating than infrared to enable an increased production rate, while also increasing efficiency and introducing less heat into the surrounding work environment. Consequently, induction will offer a rapid return on investment. By working with Ambrell, the client benefited from free application testing and its application expertise.

To read more Ambrell application notes, click here. Click the button below to learn more about Ambrell's Application Laboratories.