Ambrell's induction heating solutions help clients increase their production efficiency. Induction heating offers tremendous possibilities for delivering localized heat with short cycle times.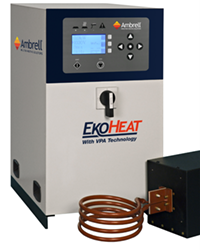 One of Ambrell's c
u
stomers is adding more production lines. Although that company has been using our
EKOHEAT 50 kW power supply, for this particular application they require less power. Ambrell's eng
ine
er
s
per
formed complimentary applications testing with a 15 kW EKOHEAT with VPA Technology power supply and a custom-made coil. The application testing met the client's
objectives.
If you need induction heating solutions and expert advice to enhance your process, Ambrell is your partner thanks to our versatile equipment and superior engineering expertise. Want to learn more about the EKOHEAT's capabilities and our applications expertise? Read more in our new brochure and see how we can help enhance your process.


Production efficiency is an important challenge in any manufacturing process. If you are currently thinking of implementing induction heating to minimize energy usage and footprint, we offer a free-of-charge consultation and testing service from THE LAB. And this convenient on-line form will help us understand your heating challenges so we can start testing your parts and coming up with a solution to your application.