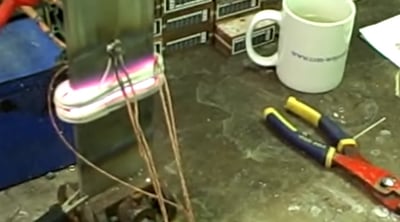 A client contacted THE LAB at Ambrell because they needed to heat a block of Haynes nickel alloy from 600 ºF (316 ºC) to 1600 ºF (871 ºC) in order to collect data on the crack growth rate for an aerospace application. THE LAB determined that an Ambrell EASYHEAT® 2.4 kW, 150-400 kHz induction heating power supply with a single position four-turn helical coil would meet the requirements of this aerospace testing application.


Testing was conducted to optimize the power delivered to the part. The coil was designed to minimize the voltage potential over the length of the part. The part was placed into the coil and a multimeter was connected to it to measure the voltage potential over the length of the part. The heat was turned on and the part was heated to 1600 ºF (871 ºC) within 90 seconds. The system frequency was set to 196 kHz.
Versatility was key in this case, as the client had purchased an EASYHEAT for a different application, but it was also able to meet this application's requirements. The expertise of THE LAB at Ambrell was also important, as the client needed a coil tuned to their EASYHEAT, and it had to meet their heating requirements while leaving the center horizontal plane open for visual inspection. This design from THE LAB met this objective. Finally, induction offered the rapid heating they required.
Visit our heating applications page to see other general induction heating applications tested by THE LAB at Ambrell. If you have a heating application that could benefit from induction heating, contact THE LAB to sign up for complimentary application testing. We have several options available, so whether you want to view testing remotely, in person, or simply would like a lab report, we'll be happy to help.