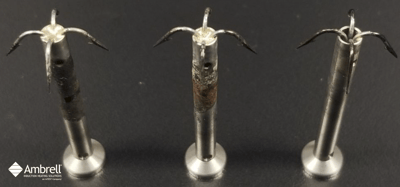 A client came to THE LAB at Ambrell needing to heat two pairs of fishhooks inside a steel tube for a brazing application. The end product was an anchor. The target temperature for the brazing application was 1200 ºF (649 ºC). THE LAB determined that an Ambrell EASYHEATTM 1.2 kW, 150-400 kHz induction heating power supply with a custom-designed single position multiple-turn helical coil would meet the client's objectives.


There were three assemblies heated for this application. Initial tests were conducted to optimize the power delivered to the part. It took 35 seconds or less to heat each sample to temperature. For one of the samples, to prevent overheating of the tube, braze wire was cut up and put inside the tube along with the fishhooks. That way, the entire assembly would get up to temperature at the same time. Doing this reduced the heating time to 23 seconds. THE LAB confirmed the feasibility of the brazing process.
Induction offered a number of benefits for this brazing application. While this was a new application for the client, induction met and exceeded their heating requirements in terms of speed. Induction is also highly repeatable, leading to improved product quality. It's also a very precise heating method, so only the portion of the part that requires heating gets heated. There is also no open flame with induction heating, which provides safety benefits. Finally, the expertise of THE LAB allowed the client to have peace-of-mind of knowing their application would work prior to investing in induction equipment.


Visit our induction brazing page to see a wide variety of brazing applications across numerous industries. If you have an application you'd like assessed, contact THE LAB to take advantage of complimentary induction heating application testing from our expert team. We'll send your parts back for inspection, along with passing along a video showing you the heating process. You can even view it live with our Remote Lab Service.