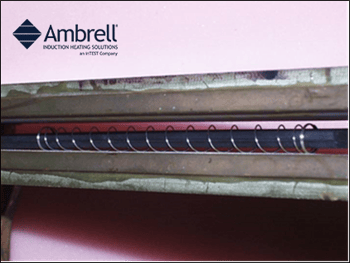 A client contacted THE LAB at Ambrell because they needed to temper a spring by heating it to 300 °C (570 °F) in 2-4 seconds. The application involved various size stainless steel springs that they needed to heat with one induction coil. THE LAB determined that an Ambrell EASYHEATTM 2 kW, 150-400 kHz induction heating power supply with a multiple-turn C-channel coil would be the right solution for this induction tempering application.


Initial tests were conducted to optimize the power delivered to the part. THE LAB determined that 326 kHz would be the right frequency for this application. Springs were mounted on non-metallic mandrels to facilitate loading and unloading and were placed inside the coil. Power was applied for 2-4 seconds, which completed the tempering process. The C-channel coil distributed the heat evenly and enabled the convenient staging and removal of the springs. This process achieved the client's objectives.
Temperature and duration of this process were controlled with induction, making for a repeatable process. Additionally, induction is energy efficient as energy is applied directly to the springs resulting in cost savings, plus there is no open flame introduced into the work environment. Finally, induction systems, particularly the EASYHEAT, requires little space and has a workhead that can be placed a distance from the power supply. In this case, it integrated easily into their continuous process.
Ambrell offers induction heating expertise based on over 30 years of industry experience. To learn about more induction heating applications, including other tempering applications, visit the Induction Applications section of our website. We also encourage you to fill out a lab service request form so the expert application engineers at THE LAB at Ambrell can test your application and recommend a solution based on your requirements.