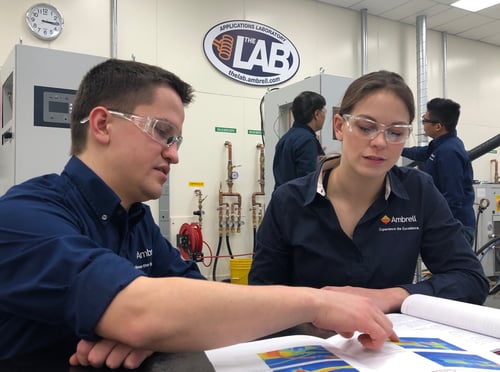 Our Applications Laboratory – recognized in the industry as THE LAB at Ambrell – is known for developing innovative and effective heating solutions that produce extraordinary results. Clients regularly take advantage of a free half-day of laboratory testing, and have the option of receiving the lab report and video after testing or visiting one of our laboratories to observe testing and interact during the process.


Now, for those that would like the interactive experience of being in one of our applications laboratories during testing but are unable to do so, we're pleased to introduce Virtual Lab Service. The process is similar in that you discuss your application with an expert applications engineer and send in your parts to one of our laboratories. At that point, you'll set up a time and date and we'll video conference with you during testing to show you the testing process and results live. This offers a more interactive experience while you get to provide your input during the process – all from the convenience of your office.
Our lab equipment includes a wide array of induction heating systems and hundreds of proven coil designs, as well as rapid coil prototyping for unique applications. We have recording equipment for slow motion studies, computer software for thermal analysis, quenching and closed loop heat sensing capabilities. Our expert team of application engineers has experience with numerous heating applications across a wide range of industries.
Be sure to take advantage of all THE LAB has to offer with free parts testing and ask for Virtual Lab Service to see it happen live. For more information, or to set up your Virtual Lab visit, go to www.ambrell.com or call +1 585 889 9000.