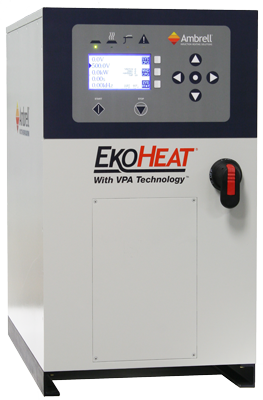 Ambrell, a leading manufacturer of induction heating systems and an inTEST Company, has sold an EKOHEAT 45 kW/100 kHz induction heating system to a large research university for "superalloy" research. The client had previously used Ambrell induction heating systems for research applications.


The application involved melting up to 20 grams of tungsten to 3500 °C in a cold crucible. A cold crucible involves levitation and requires virtually no contact between the crucible and melting bath. This method maximizes the purity of the melt.
The client chose Ambrell thanks to its past positive experience. Their needs grew, and they needed to melt larger batches. The Ambrell EKOHEAT enabled them to meet their objective. Ambrell offers clients complimentary application testing from THE LAB to ensure their new system will meet their process requirements.
Ambrell offers a full line of induction power supplies that can be used for melting applications. For those that need complete melting systems, Induction Technology Corporation is Ambrell's melting partner. They can provide small crucibles for smaller applications and large furnaces for significant loads.
For more information about Ambrell, visit www.ambrell.com, e-mail sales@ambrell.com or call +1 585-889-9000.