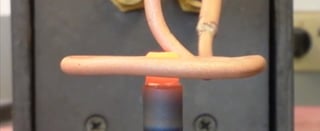 Check out our latest induction heating application video. It involves annealing the tip of a steel part with an Ambrell EASYHEATTM. Temperature indicating paint was applied to the tip of the steel part. As you can see in the video, heating took just three seconds.


Here is the full video transcription:


In this application video we'll be annealing the tip of the part. The part is currently located in the coil and it'll be heated for approximately three seconds. Temperature indicating paint is on the tip of the part. The induction power is now on. The tip of the part has achieved temperature and the annealing application is complete.
If you'd like to get your parts tested in THE LAB, just fill out this form to get started. Click here to check out more application videos, or click below to read induction annealing application notes.