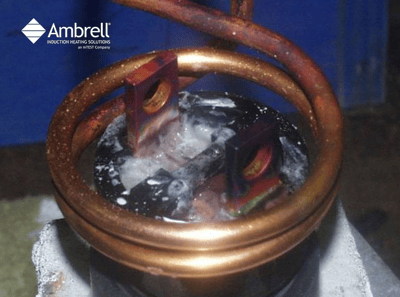 A client came to THE LAB at Ambrell needing to braze a joint between a copper lug and nickel-plated copper pins on a pressurized heater connector. The target temperature was 1175-1375 ºF (635-746 ºC). THE LAB determined that an Ambrell EASYHEATTM 10 kW, 150-400 kHz induction heating power supply would meet the client's objectives.


A two-turn helical coil was designed to heat the copper lugs and nickel-plated copper pins for one minute, which was the client's goal. A clamp was used in production to hold the copper lugs in place for brazing. Induction offered a number of benefits for this brazing application including:
Minimal transfer of heat to the adjacent ceramic insulator
Hands-free heating that involves minimal operator skill for manufacturing
• Flameless processing
• Can heat very small precise areas within production tolerances
• Even distribution of heating
Be sure to visit our brazing page to see a wide variety of brazing applications across various industries. If you have an application you'd like assessed, contact THE LAB to take advantage of complimentary induction heating application testing from our expert team.