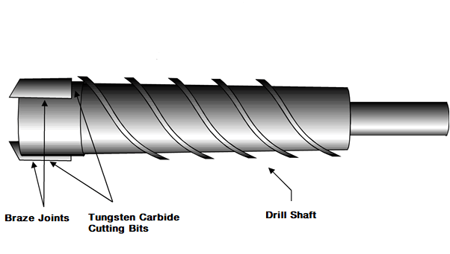 A client came to THE LAB at Ambrell looking to braze carbide cutting tips to drill bits ranging in size from 0.5" to 1.5" (12.7 to 38.1 mm) in diameter. The brazing takes place at 1900 °F (1038 °C) and was done in 11 seconds for the 0.5" diameter bit and 39 seconds for the 1.5" (38.1 mm) diameter bit. The client's objectives include decreasing the brazing times, especially for the larger drill bits. Repeatability must also be adequate.


THE LAB determined that the heating can be done using a helical coil since the drill bits are presently front-loaded into a double turn helical coil. An Ambrell EKOHEAT® 20 kW induction heating power supply was determined to be the optimal system for this application. Heating times were met and surpassed during testing. For the 0.5" (12.7 mm) drill bit 11 seconds was required to reach 1900 °F (1038 °C) while 32 seconds was necessary for the 1.5" (38.1 mm) drill bit. These results indicate a decrease in heating time of 7 seconds for the 1.5" (38.1 mm) drill bit while retaining quality and repeatability.
There are several benefits to induction heating when compared to other heating methods. Speed, which was the top priority for this client, is often a benefit. Repeatability is also a key benefit, as induction can be easily automated and isn't dependent on operator skill like a torch. Finally, there's no open flame with induction, so it's a comparatively safer option when compared to a torch that introduces less heat into the work environment.
Visit our brazing page to see numerous induction brazing applications assessed by THE LAB at Ambrell. And, if you have an application you'd like tested, contact THE LAB to take advantage of free induction heating application testing. You can even leverage our newest offering called Virtual Lab Service, where you can experience lab testing live from the comfort of your home or office.