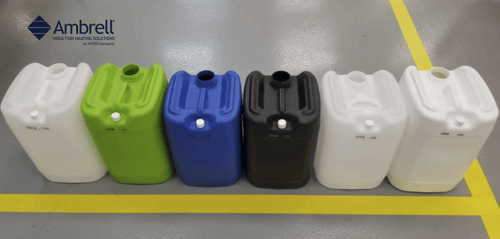 THE LAB at Ambrell tested an induction cap sealing application involving heating aluminum foil cap seals on plastic containers. THE LAB determined that an Ambrell EASYHEAT® 1.2 kW, 150-400 kHz induction heating power supply with a single position, multiple turn helical coil would meet the requirements of this application.


Initial tests were conducted to optimize the power delivered to the part. The induction coil was located approximately 1/8" (3.2 mm) away from the cap. It took one second to heat the aluminum inside the cap enough to adhere to the plastic jug. Several jugs were sealed during testing. The frequency for this application was 315 kHz.
Heating time was important to this client, and this solution helped them meet their production objectives. Induction's control and repeatability was also important, as the quality of the seal was consistent thanks to the level of control induction delivers. The EASYHEAT systems were also easily integrated into their production line due to the small size of the EASYHEAT's workhead. Finally, induction is efficient as power is applied directly to the aluminum and no energy was wasted heating the surrounding parts and materials.
Visit our induction cap sealing page to see several cap sealing applications tested by THE LAB at Ambrell. If you have a heating application that could benefit from induction heating, contact THE LAB to take advantage of complimentary application testing. You can even ask for Virtual Lab Service, where you can experience lab testing from the convenience or your office.