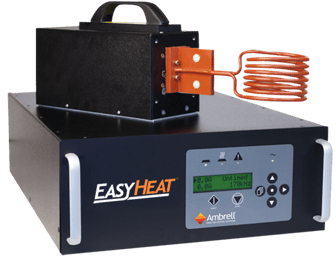 A client contacted THE LAB at Ambrell needing to heat steel tubes to 500-1000 ºF (260-538 ºC) for a shrink fitting application. THE LAB determined that an Ambrell EASYHEATTM 7.5 kW, 150-400 kHz induction heating system would be best for this induction shrink fitting application based on the client's heating requirements. The frequency for the application was determined to be 166 kHz.


Initial tests were completed on a sample steel tube without a thermal blanket. A thermocouple was slipped between the copper ring and the steel tube to measure temperature. The part was 4.940" (125 mm) at room temperature with an ID gauge. The part reached 1000 ºF (538 ºC) in about 10 minutes. When using a thermal blanket the heat time was reduced by about 90 seconds (8.5 minutes as opposed to 10 minutes).
For this application, induction heating offered several advantages. It provided fast heating which saved power and time. It's also a clean source of heat that delivers less heat into the work environment than a torch and takes up less space than an oven. Additionally, an oven would have heated the entire tube which is unnecessary, while induction offered targeted heating.
THE LAB at Ambrell has a significant amount of experience with induction shrink fitting applications like this one. Visit our induction shrink fitting page to learn about other shrink fitting applications assessed by THE LAB. And, to learn more about free application testing, visit our page with more information about THE LAB or contact us today to get the process started.