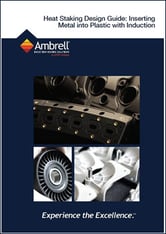 Our newly updated design guide, titled the Heat Staking Design Guide: Inserting Metal into Plastic with Induction by Dr. Girish Dahake, is now available for download. Heat staking of threaded metal inserts into plastic (also known as metal-to-plastic insertion) is a common induction heating application, and this design guide will help you get started. With heat staking, the insert is preheated with induction and then pressed into a hole in the plastic part. This is accomplished by positioning the induction coil over the hole and then holding the insert in the coil for a short period of time. When the correct temperature is achieved, the insert is pressed into the plastic.


The insert material is usually brass or steel; each has advantages and disadvantages. Brass is non-magnetic and will not corrode as easily as steel. However, brass is a softer material and will anneal at temperatures as low as 450 °F (232 °C), whereas steel starts to anneal at 1200 °F (649 °C). One heat staking example is an automotive door handle that requires steel inserts to be placed in separate locations on the handle. This can be accomplished quickly and efficiently with the right induction system and a multiple-position coil. Another application involves heating inserts for office chairs that have a metal leg assembly with a molded plastic body attached with steel fasteners.
Heat staking has become particularly popular in the automotive industry as manufacturers look to reduce weight, noise, and costs while also improving fuel economy. Whether your process involves the heat staking of threaded metal inserts into plastic, or injection molding, this design guide will give you the information you need to get started. And, don't forget, THE LAB at Ambrell offers complimentary application testing.
Be sure to download the design guide today. You'll also want to check out some of the heat staking application notes from THE LAB at Ambrell. And, keep your eyes open for additional heat staking blog posts right here on the Ambrell Blog.