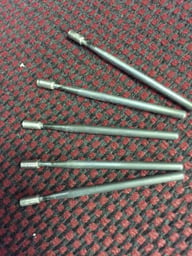 A dental tools manufacturer wanted to realize the benefits of induction brazing. They had been using resistance heating in their high-volume manufacturing process, but hoped to take advantage of induction's rapid, precise heating. They turned to THE LAB at Ambrell for a solution. The brazing application involved heating a steel and carbide dental assembly (diameter 0.032 in/.81 mm) to 1400 ºF (760 ºC) with a targeted heating time of seven seconds.


Initial tests were conducted by THE LAB to optimize power delivered to the assembly. It was determined that an Ambrell EASYHEATTM 10 kW induction heating system and a specially designed channel coil would be optimal for this application. THE LAB then manufactured the appropriate test coil.

At this point, live testing was the next step in the process. The parts were painted with temperature indicating paint. A braze shim was placed on the joint along with some flux. The part was then set inside the coil and the power was turned on. Within seven seconds the temperature indicating paint melted and the parts reached the targeted temperature. This achieved the client's objective. The channel coil – specially designed by THE LAB at Ambrell– was critical to the application's success.

To read the full application note or check out additional application notes, visit our website. If you have any questions or would like to take advantage of our complimentary parts testing, contact us today.