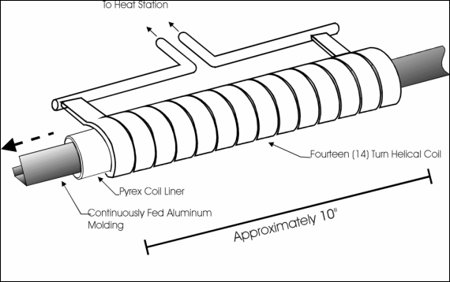 A client contacted THE LAB at Ambrell needing to heat aluminum molding to activate an adhesive coating prior to applying the vinyl. The target temperature for the application was 500 ºF (260 ºC). THE LAB determined that an Ambrell EKOHEAT® 20 kW power supply with a specially designed 14-turn helical coil would be the right solution for the client's requirements.
Processing was continuous at a rate of over 20 feet (6.1 m) per minute with the temperature reaching 500 °F (260 ºC). The aluminum was formed from a roll of flat sheet, after which the molding was coated with adhesive and sent through the induction coil. It was critical that warping of the molding was kept to an absolute minimum.
Heating to the target temperature was accomplished through the use of the unique helical induction coil; molding was continuously processed at a rate over 20 feet per minute. Due to the even heating produced through induction, warping of the aluminum molding was in fact kept to a minimum.


Induction heating offers several benefits for bonding applications when compared to other heating methods. First, induction heating is fast, so it accelerates the production rate/throughput when compared to many other methods. It also delivers consistent, repeatable heat time after time, which is extremely beneficial from a quality perspective. In this case, it kept warping to an absolutely minimum. Finally, thanks to THE LAB's deep application expertise, the client was offered a solution that met their objectives.
If you have an application that might benefit from parts testing, contact THE LAB to take advantage of complimentary induction heating application testing. Additionally, we have Virtual Lab Service so you can observe testing from the convenience of your office. And, whether you choose Virtual Lab Service or not, we'll always send you a video, lab report and your parts after testing so you can assess the results prior to making a purchase decision.