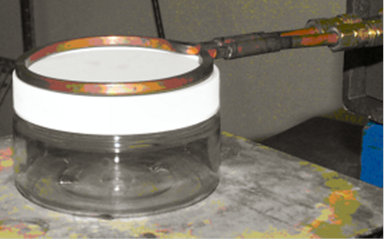 THE LAB at Ambrell tested an induction cap sealing application for a client that manufactures lotion. It involved heating an aluminum in-cap laminate to a temperature of 350 ºF (177 ºC) to seal the laminate to the container. THE LAB determined that an EASYHEATTM 1.2 kW, 150-400 kHz induction heating power supply with a single turn helical coil of rectangular tube would meet the requirements of the client.


As mentioned, the single-turn helical coil generated the required heating pattern for this cap sealing application. The induction system heated the assembled lid-foil container to the required temperature of 350 ºF (177 ºC). The seal was achieved after just one second of heating. The frequency for this application was 300 kHz.
Speed (heating time) was important to this client, and this solution met their requirements. The speed enables them to boost their production throughput. Induction's control and repeatability was also important to the client, as the quality of the seal was good and consistent due to the level of control induction delivers. Induction was also easily integrated into their production line due to the small size of the EASYHEAT's workhead. Finally, induction is efficient as power is applied directly to the foil and no energy was wasted heating the cap, air or surrounding parts.
Visit our cap sealing page to see numerous induction cap sealing applications assessed by the engineers at THE LAB at Ambrell. And, if you have an application you'd like tested, contact THE LAB to take advantage of complimentary induction heating application testing. You can even leverage Virtual Lab Service, where you can experience lab testing live from your home or office.