Induction heating can be applied in a wide variety of industries. Some time ago, we completed an application involving coating lipstick cases. This month, our application engineers tested the metal to plastic insertion of a mascara handle for a Belgian machine builder.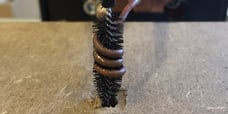 A 6 kW EASYHEAT power supply with a two-turn headphone coil achieved the objective within the desired heating cycle. Ambrell has a great deal of expertise with heat staking.In fact, metal to plastic insertion is one of the applications where induction heating offers tremendous advantages of shor heating cycles, efficiency, process repeatability and reliability.
We offer complimentary testing from one of our best-in-class applications laboratories, where the applications team will put their decades of induction experience involving thousands of applications to work for you. If you are interested in an in-depth insight into the metal to plastic applications, read our white paper!