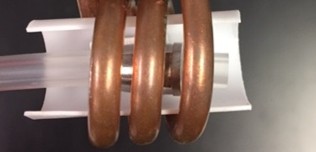 Bonding involves connecting metal or materials containing metal to materials such as plastic, rubber or thermoplastic materials without using a bonding adhesive. Bonding with induction entails accelerating the polymerization of an adhesive by heating the metal parts to be joined. The required temperature range is generally from 150 ºC to 220 °C. Accurate heat control is critical to successfully bonding with induction heating.
Induction heating offers several benefits over competitive processes like spot welding including:
Process time reduction (rapid heating)
Easy integration into assembly lines (in-line and cell operations)
Reduced energy consumption (financial savings)
Controlled heating (which can enhance joint quality)
No contact with the part (improved quality)
Induction bonding is used in an array of industries including:
Aerospace: carbon fiber/composite bonding
Automotive: magnets in electric motors, bonding of body parts like fenders, rear view mirrors, and various joints
Medical: metal-to-plastic bonding with dental tools
Optics: Many glass-to-metal bonding applications
Ambrell offers complimentary applications testing from THE LAB. We'd be happy to review your application and deliver a tailored system recommendation based on your process requirements. Visit our bonding applications page to learn about bonding applications THE LAB has assessed for other companies.