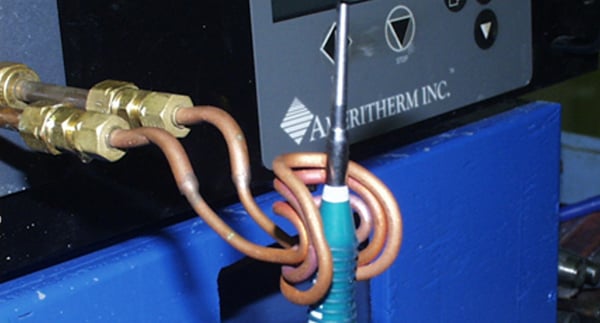 A customer from the dental industry needed to heat a magnetic steel post to 300 °F (149 °C) for a bonding application. They turned to THE LAB at Ambrell to prove out their metal-to-plastic bonding application. THE LAB at Ambrell determined that an EASYHEATTM 1.2 kW, 150-400 kHz induction heating power supply with a workhead and specially designed folded pancake induction heating coil would work optimally for this application.
Initial tests were conducted to optimize the power delivered to the assembly. Temperature indicating paint was used to determine time-to-temperature and the heating pattern on the post. The plastic handle was slid onto the picks and mirror. The assembly was then placed inside the induction heating coil and heated. Parts were cooled in position before being removed from the coil. When heating one end, vertical positioning is optimal. However, a dual coil design for simultaneous heating of both ends requires horizontal positioning.


Reliable bonds were produced when the diameters of the preassembled parts were consistent with little clearance before they were heated. The heating times ranged from 5-7.5 seconds, which met the client's time-to-temperature objectives.
Induction heating offers several benefits when compared to other heating options for dental bonding applications. First, it delivers consistent, repeatable heat that forms reliable bonds every time. It also leads to faster process heating times and a more even distribution of heating than many other heating methods. Finally, induction offers hands-free heating that isn't dependent on operator skill.
Take a look at our Medical Applications Brochure to see other dental/medical applications using induction heating. And, if you have an application that requires testing, contact THE LAB to take advantage of complimentary induction heating application testing from our expert applications team. We'll send you a video and lab report after testing, and if you'd like to see the testing live, you can take advantage of our Virtual Lab Service.