Induction heat staking Benefits
Meets tight production tolerances with precise localized heat to small areas creating pinpoint accuracy

Increases production rates with faster heating cycles

Reduces defect rates with repeatable, reliable heat

Eliminates variability from operator-to-operator, shift-to-shift

Maintains metallurgical characteristics of the individual metals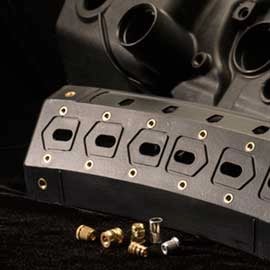 Heat Staking Basic Design Guidelines
Thermoplastics will flow at elevated temperatures and the solidified polymer can be re-heated to re-flow around the insert. Thermosetting polymers, once the shape has been cast, will no longer melt or flow on reheating. Table 1 shows some typical temperatures, time and power required for different materials, as established in the Ambrell Applications Lab.
The diameter of the insert hole must be the correct size to allow the plastic to flow around the insert. If the hole is too small,extra plastic will be displaced. This displaced plastic is commonly called 'flash.' Excessive heat and pressure may also cause flash. If the hole is too large, not enough plastic will flow into the fins and knurls to achieve the desired holding strength.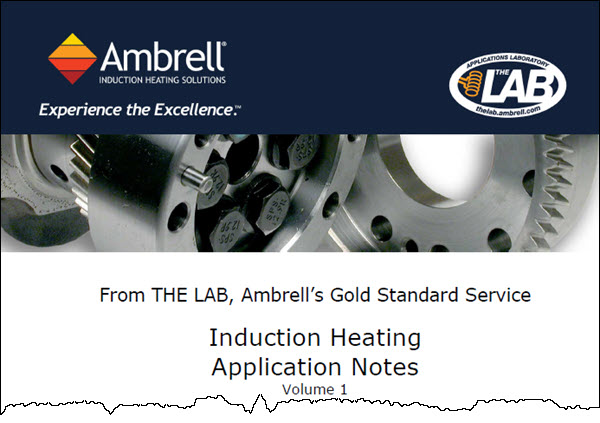 We have collected these 10 popular Application Notes to help you understand the many ways induction heating can improve your heating processes.
Popular heat staking Video
Our Induction heat staking Systems and Equipment
Four Ways To Contact Ambrell for Support
AMBRELL CORPORATION
1655 Lyell Avenue
Rochester, NY 14606
United States


Directions
F: +1 585 889 4030
AMBRELL B.V.
Holtersweg 1
7556 BS Hengelo
The Netherlands


Directions
AMBRELL Ltd.
Unit 6, Space Business Centre
Tewkesbury Road
Cheltenham, GLOS, GL51 9FL
United Kingdom

Directions
F: +31 546 788 154