'Brazing PCD Inserts in Drilling Tools'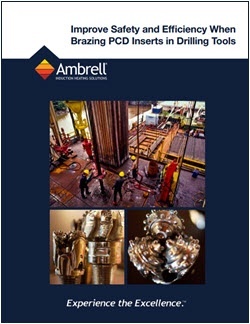 Advantages Of Induction Heating
♦ Rapid heating saves time and improves productivity
♦ More control with the precise, even heating of part or all of the tube
♦ Clean, non-contact process minimizes the introduction of heat into the local environment
♦ Energy efficient when compared to other common heating methods
In down hole fixed cutter, rock, or hammer drill bit manufacturing and rebuild operations, 40-60 tool inserts are individually brazed onto a single drill bit. These inserts may be a polycrystalline diamond compact (PDC) or tungsten carbide insert (TCI). Induction heating is the ideal method for brazing due to its reliability, repeatability, efficiency and safety in application, which offer not only a better joint quality, but also more throughput.
Please share your business contact information to view the document.
We respect your privacy
and will only use the information you provide to administer your account and to deliver the materials you requested.
Four Ways To Contact Ambrell for Support
AMBRELL CORPORATION
1655 Lyell Avenue
Rochester, NY 14606
United States


Directions
F: +1 585 889 4030
AMBRELL B.V.
Holtersweg 1
7556 BS Hengelo
The Netherlands


Directions
AMBRELL Ltd.
Unit 6, Space Business Centre
Tewkesbury Road
Cheltenham, GLOS, GL51 9FL
United Kingdom

Directions
F: +31 546 788 154