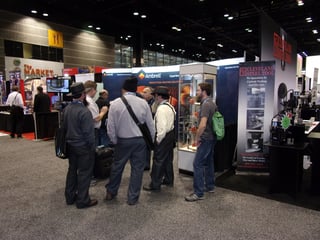 Ambrell, a leading source of innovative applications of induction heating, will exhibit at the Offshore Technology Conference. The event will take place May 2-5 in Houston, TX and Ambrell will exhibit in the Pavilion in booth 12401.


Ambrell has helped companies from the oil and gas industry with numerous heating applications, including tube and pipe coating curing, pre- and post-weld heating, hot pipe bending, drill pipe heat treatment and preheating drill bits for brazing PDC or TCI inserts. Induction's rapid, controllable, efficient, non-contact heating makes it the heating method of choice for numerous applications.


Ambrell manufactures a wide range of high and low frequency induction heating systems, ranging from 1 kW to 500 kW. Systems are manufactured in the United States, while international offices and local resellers are available around the world. The cornerstone of the Ambrell experience is its applications testing from THE LAB. The Ambrell Applications Lab will test the client's application and recommend the right system based on their process requirements.


If you visit the booth and mention this press release, you'll receive a complimentary power bank for charging your devices when you're away from an outlet. There will also be an array of other giveaways, including luggage tags, tape measures, bags and more. In the booth, you can view an induction heating demonstration and learn about Ambrell's innovative solutions such as its flexible EASYCOIL for large and oddly shaped parts.


For additional details about Ambrell and its expertise with oil and gas industry applications, call +1.585.889.9000 or visit http://largepipe.ambrell.com.